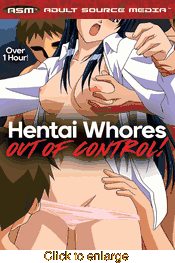 Hentai Whores Out Of Control
Genre: Adult Hentai / Erotic Fantasy
Format: DVD (Region All)
Length: 60 Minutes
Language: Bilingual - Japanese w/ English Subtitles and English Dubbed
Release: Adult Source Media
Availability : Stocking Item - Usually Ships Within 24-48 Hours Unless Backordered

Note: This Anime Contains Graphic Sex, Graphic Violence, and Adult Situations.







Come and get some!

We hope you're ready because these Hentai girls are about to turn it up a notch!
They're out of control and ready for whoever crosses their path.