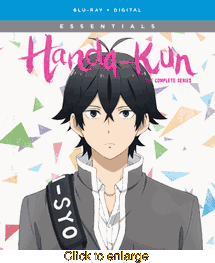 Handa-kun
Genre: Comedy / Shonen / Slice of Life (Age Rating 15+)
Format: BLURAY (Region A)
Length: 300 Minutes
Language: Bilingual - Japanese w/ English Subtitles and English Dubbed
Release: Funimation
Availability : Stocking Item - Usually Ships Within 24-48 Hours Unless Backordered








The frustrated calligrapher from Barakamon is in for a high school throwback!
This playful prequel reveals Handaís incredibly introverted teenage years that made him who he is today. Everybody loves Sei Handa, the handsome calligrapher genius who can do no wrong. Girls adore him, guys respect him, and anyone who is anyone has at least heard his name. The only person who doesnít know of his popularity is...Handa himself! Wallowing in his insecurities, he assumes people talk about him because they hate his guts.
A childhood friend, Kawafuji, could tell him the truth, but itís way more fun to just sit back and laugh as Handa makes the worst out of every situation.