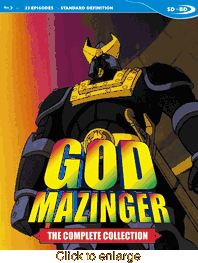 God Mazinger
Genre: Action / Drama / Science Fiction (Age Rating 14+)
Format: BLURAY (SD-BD) (Region A)
Length: 506 Minutes
Language: Japanese w/ English Subtitles
Release: Eastern Star
Availability : Stocking Item - Usually Ships Within 24-48 Hours Unless Backordered








In the ancient, legendary past,
the peaceful kingdom of Mu is under siege by the war-like Dragonian Empire.
With a woeful amount of fire power and only a giant statue of a deity to watch over them, the young Queen Aira and her people are no match for the Dorado, the Golden King,and his army of dinosaurs. But Aira reaches out to someone who can save them, a warrior from another time and place. That person happens to be Yamato Hino, an average though highly athletic high school boy in modern-day Tokyo. At first Yamato think she's going crazy when he gets messages from a spectral young woman, but she eventually convinces him to take the plunge… through a mystical portal to ancient Mu. Before the Tokyo teen can get acclimated, Dragonia attacks again, but this time, the dinosaurs and soldiers are repulsed by the giant God Mazinger, now merged with Yamato.
Though Mu has achieved it's first victory, they have along way to go, as does Yamato, who will need to over come his own deep character flaws and become a true warrior to save the kingdom and get back home.