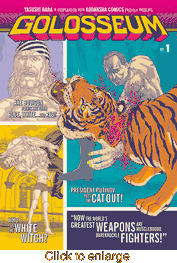 Golosseum Graphic Novels
Genre: Science Fiction (Age Rating 16+)
Format: Graphic Novel, B&W
Author: Yasushi Baba
Language: English Language
Release: Kodansha
Availability : Discontinued and Out of Print - Limited to Stock on Hand









Scientists discover a new material that renders people immune to all existing weapons.
But these "peacemakers" instead transform world war into a martial-arts free-for-all! Rasputin plots with Russian President Putinov to control the global supply.
Opposing them are the unstoppable Axe Bogan, a certain master in a jumpsuit from China, and a slew of other muscular heroes!