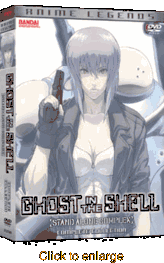 Ghost in the Shell Stand Alone Complex
Genre: Science Fiction / Action / Cyberpunk (Age Rating 15+)
Format: DVD (Region 1) & BLURAY (Region A)
Length: 780 Minutes
Language: Bilingual - Japanese w/ English Subtitles and English Dubbed
Release: Manga Video
Availability : Stocking Item - Usually Ships Within 24-48 Hours Unless Backordered








It is 2030 and in an alternate universe where Motoko Kusanagi never met the Puppet Master, she still lives and operates as the lead agent in Public Safety Section 9, a special armed mobile government unit dealing in cyber crimes.
Female cyborg Major Motoko Kusanagi and her fellow police officers of Section 9 hunt down a host of criminals in both the real and online worlds. In the course of their work, Kusanagi and Section 9 must do everything from resolving hostage crises to hunting down runaway state-of-the-art killing machines.
Set to a fantastic sountrack by legendary composer and songwriter Yoko Kanno as she teams up with Tim Jensen (of Seatbelts fame) on "lithium flower", the ending theme song-cum-tribute to everyone's favorite cyborg Motoko, and Origa and Shanti Snyder for the opening theme "Inner Universe". Reaching back to her Macross Plus days, it is a fusion of techno, rock, and traditional Japanese music.