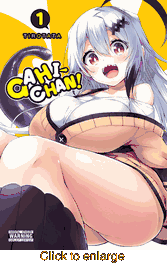 Gahi-chan! Graphic Novels
Genre: Comedy / Supernatural (Age Rating 16+)
Format: Graphic Novel, B&W
Author: Tirotata
Language: English Language
Release: Yen Press
Availability : Stocking Item - Usually Ships Within 24-48 Hours Unless Backordered









When a starving manga artist suddenly finds a girl who looks like the spitting image of his own series' heroine on his front doorstep, it seems like a dream come true!
But if only it was as simple as his drawings coming to life—this girl turns out to actually be a gahi, a yokai who can only appear human by transforming artwork into human skin and wearing it like a glove?!?!
"Without your art...my body will become all weird..." So begins the new life of an artist with a cute girl (???) under his roof!?