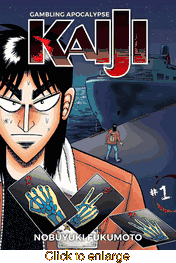 Gambling Apocalypse Kaiji Graphic Novels
Genre: Drama (Age Rating 16+)
Format: Graphic Novel, B&W
Author: Nobuyuki Fukumoto
Language: English Language
Release: Denpa
Availability : Stocking Item - Usually Ships Within 24-48 Hours Unless Backordered









One day, ne'er-do-well Kaiji Itou's
shiftless existence is suddenly rattled by a visit from the yakuza.
Burdened by debt and resentment, Kaiji is coerced into gambling for his worthless life. As the stakes grow higher and the rules become increasingly more bizarre, Kaiji must finally take the future into his own hands! Legendary mangaka Nobuyuki Fukumoto finally makes his English-language debut.
The inspiration for the infamous anime by the same name and the Netflix live-action film Animal World takes readers into the dark side of Japan's post-bubble economic society by thrusting them into a world of debt, debauchery, and delusion.