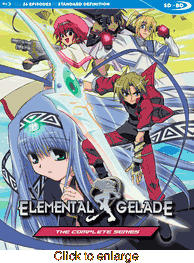 Elemental Gelade
Genre: Comedy / Fantasy / Romance (Age Rating 16+)
Format: BLURAY (SD-BD) (Region A)
Length: 600 Minutes
Language: Bilingual - Japanese w/ English Subtitles and English Dubbed
Release: Eastern Star
Availability : Stocking Item - Usually Ships Within 24-48 Hours Unless Backordered








Cou, the bumbling rookie
of the "Red Lynx" pirate squadron has just discovered the treasure of a lifetime!
A Mighty member of the ancient race of Edel Raids. Ren, at first glance, seems to be a shy and defenseless girl, but she holds withing her a power that many are willing to kill for. When Cou takes it upon himself to protect Ren on her journey to a mysterious place called Edel Garden...
...He immediately makes new friends and dangerous enemies.