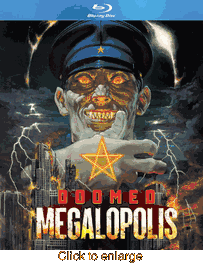 Doomed Megalopolis
Genre: Horror / Supernatural (Age Rating 16+)
Format: BLURAY (Region A)
Length: 135 Minutes
Language: Bilingual - Japanese w/ English Subtitles and English Dubbed
Release: Media Blasters
Availability : Stocking Item - Usually Ships Within 24-48 Hours Unless Backordered









An evil sorcerer bent on crushing the "greatest city on earth"
uses dark powers to awaken the destructive spirit of Tokyo's historic "guardian."
To save the city, a team of occultists, scientists and children become embroiled in a multi-decade supernatural struggle to oppose the forces of darkness!
Long out of print, the epic four-chapter saga returns in all itís horrific glory!