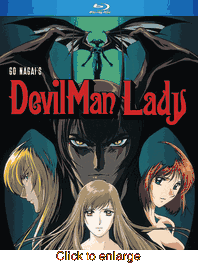 Devilman Lady
Genre: Action / Drama / Horror (Age Rating 17+)
Format: BLURAY (Region A)
Length: 600 Minutes
Language: Bilingual - Japanese w/ English Subtitles and English Dubbed
Release: Eastern Star
Availability : Stocking Item - Usually Ships Within 24-48 Hours Unless Backordered








Just make sure you know how to escape!

By day a beautiful, shy fashion plate. By night a terrifying vision of demonic power. When a mysterious stalker pitches Jun Fudo head-first into a brutal confrontation with the supernatural, the popular supermodel realizes power beyond her imagining! From the master of horror comics, Go Nagai, comes a harrowing odyssey through the twisted maze that is Jun's life as Devilman Lady. It's full-tilt gothic horror as Jun battles with an army of demonic forces threatening to destroy mankind and create a new order of devil beasts in its place.
Part human. Part beast. Jun is the Devilman Lady.