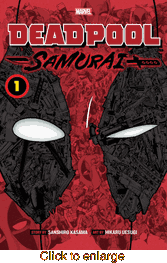 Deadpool Samurai Graphic Novels
Genre: Action / Comedy (Age Rating 14+)
Format: Graphic Novel, B&W
Author: Story by Sanshiro Kasama and Art by Hikaru Uesugi
Language: English Language
Release: Viz
Availability : Stocking Item - Usually Ships Within 24-48 Hours Unless Backordered









Deadpool moves to Tokyo and makes a mess of everything!
Everyone's favorite Merc with a Mouth is back! As a member of the newly formed Samurai Squad, Deadpool moves to Tokyo, where he soon runs afoul of some familiar faces. Whether he's teaming up with new heroes, battling gods, attending concerts, or being repeatedly dismembered, Deadpool always brings chaos and his characteristic sense of humor along with him! Deadpool lands in Tokyo with a bang! Several bangs in a row, actually. Plus a few slashes, a thud, a fwoosh or two, and finally, a huge kaboom! What could possibly go wrong when Iron Man invites Deadpool to the Samurai Squad of the Avengers?
After all, Deadpool is just in it for the money…and the trip to Japan. This is fine, right?