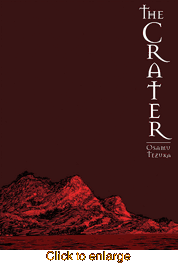 The Crater Graphic Novels
Genre: Horror / Mystery / Science Fiction (Age Rating 16+)
Format: Graphic Novel, B&W
Author: Osamu Tezuka
Language: English Language
Release: Digital Manga Publishing
Availability : Stocking Item - Usually Ships Within 24-48 Hours Unless Backordered









The Crater is a collection of self-contained short stories,
ranging from horror, mystery, to science fiction.
A man from the slums faces his doppelganger from the other side of the tracks; three guests visiting a hot spring are reminded of their past sins by a magical ringing bell only they can hear; stranded on the moon, an astronaut is stuck within a crater, sustained for a century by a mysterious life-giving gaseous fume the moon crater expels.
World renowned author Osamu Tezuka introduces you to an ominous world of sin and regret-you don't want to miss this one!