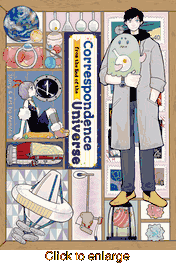 Correspondence from the End of the Universe Graphic Novels
Genre: Comedy / Romance / Science Fiction (Age Rating 13+)
Format: Graphic Novel, B&W
Author: Menota
Language: English Language
Release: Seven Seas
Availability : Stocking Item - Usually Ships Within 24-48 Hours Unless Backordered









Marko is a young Russian university student
who is looking forward to finishing school so he can spend more time with his fiancée.
However, those plans go out the window when he's abducted by aliens! These extraterrestrials have a mission for Marko,
one that will take ten years.
All Marko can do is make the most of it and get to know the strange creatures who are now his co-workers in this
offbeat tale of a life far from Earth.