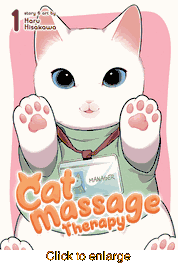 Cat Massage Therapy Graphic Novels
Genre: Comedy / Slice of Life (Age Rating 13+)
Format: Graphic Novel, Full Color
Author: Haru Hisakawa
Language: English Language
Release: Seven Seas
Availability : Stocking Item - Usually Ships Within 24-48 Hours Unless Backordered









Nekoyama, worn out after another long day at the office,
stops at a therapeutic massage parlor…only to discover that it's run by a cat!
Not only that, but the cat actually does the massaging?! Nekoyama is a dog lover, but as this professional "meowsseur" digs soft toe beans into his aching muscles, his heart warms and his worries melt away.
This is only the beginning, as he and other world-weary workers are about to meet the other cat (and kitten!) professionals who have mastered pawfully cute techniques for reducing human stress.