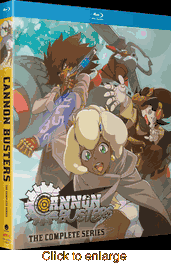 Cannon Busters
Genre: Action / Science Fiction (Age Rating 14+)
Format: BLURAY (Region A)
Length: 300 Minutes
Language: Bilingual - Japanese w/ English Subtitles and English Dubbed
Release: Funimation
Availability : Stocking Item - Usually Ships Within 24-48 Hours Unless Backordered









Follow the adventures of S.A.M., a friendship droid who is joined by a quirky maintenance robot and a deadly fugitive.
Together, the trio embarks on an unforgettable journey in a fantastic and dangerous world in search of S.A.M.ís best friend.
Limited Edition includes 6 art cards, an AR-enabled Hangman's Saloon Jukebox pin, and a 64-page art booklet all in a collectible art box.