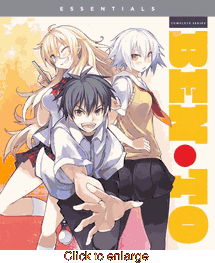 Ben To
Genre: Action / Comedy (Age Rating 15+)
Format: BLURAY (Region A)
Length: 300 Minutes
Language: Bilingual - Japanese w/ English Subtitles and English Dubbed
Release: Funimation
Availability : No Longer Available




You Sato is a new high school student living in the dorms.
While seeking cheap eats at the local market he finds himself beat up and semi-conscious with fleeting glimpses of a girl during the moments of his collapse. As his memories recover the next day, he discovers that trying to purchase half priced lunchboxes can be hazardous to his health as free-for-all fights with local students for the discounted food is the nightly routine. The girl from the night before, Sen Yarizui, is an upper classmate known as the Frozen Witch and is one of the local Wolves who dominates the area. She educates him on the rules of the game where Wolves eat well while Dogs settle for cup ramen.
With fellow first year student Hana Oshiroi, a fetishistic germaphobe, You Sato sets out to discover if he too has what it takes to be a Wolf and taste the sweet victory of half priced boxed banquets or wallow in the bitter defeat of reconstituted noodles and salty broth in a styrofoam bowl!