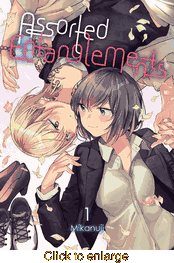 Assorted Entanglements Graphic Novels
Genre: Comedy / Romance (Age Rating 16+)
Format: Graphic Novel, B&W
Author: Mikanuji
Language: English Language
Release: Yen Press
Availability : Stocking Item - Usually Ships Within 24-48 Hours Unless Backordered









Discover a variety of stories about women's love.
Starting with Iori: twenty-eight-year-old office worker who sets out to drown her love and job sorrows in booze.
When she wakes up next to someone, she canít believe her partner was Minami, a worker at the bar who doesnít want to forget what they have!