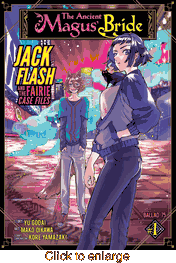 Ancient Magus Bride Jack Flash and the Faerie Case Files Graphic Novels
Genre: Drama / Fantasy / Romance (Age Rating 13+)
Format: Graphic Novel, B&W
Author: Story by Kore Yamazaki and Yuu Godai, with Art by Mako Oikawa
Language: English Language
Release: Seven Seas
Availability : Stocking Item - Usually Ships Within 24-48 Hours Unless Backordered









An all-new The Ancient Magus' Bride spin-off series!
Faerie-born Jack Flash and her human-born brother, Larry, run a detective agency in New York City specializing in crimes committed in the hazy boundary between the human and faerie realms.
They never expected to receive a letter from an ancient magus of the Old World, but Echos, caretaker of dragons, has a task for them.