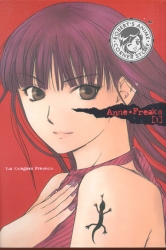 Anne Freaks Graphic Novels
Genre: Suspense / Horror (Age Rating 16+)
Format: Graphic Novel, B&W
Author: Yua Kotegawa
Language: English Language
Release: ADV Manga
Availability : Discontinued and Out of Print - Limited to Stock on Hand








Yuri is a young man caught in the act of burying his mother.
He is discovered by a beautiful young girl named Anna, who matter-of-factly offers to help him "properly" dispose of the body, removing all fillings and cutting off the fingertips to thwart identification. It turns out that Anne wants Yuri to become her partner in killing, though in fact it's much more than that. Anna soon thereafter recruits Mitsuba, whose father and older sister were killed by a radical organization called the Kakusei Group. It is this group that Anna seeks to bring down.
Mitsuba throws himself headfirst into his new life as an assassin, while Yuri grapples simultaneously with both his aversion to killing and his growing attraction for the charismatic Anna.