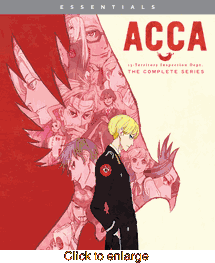 ACCA 13 Territory Inspection Dept
Genre: Drama / Mystery (Age Rating 15+)
Format: BLURAY (Region A)
Length: 300 Minutes
Language: Bilingual - Japanese w/ English Subtitles and English Dubbed
Release: Funimation
Availability : Stocking Item - Usually Ships Within 24-48 Hours Unless Backordered








For nearly a century, Dowa Kingdom has known only peace...
...thanks to the independent organization known as ACCA. But as the king grows older with no named heir, rumors of a coup are spreading from the top brass down to the notorious smoker, Jean Otus. Tasked with auditing all thirteen states...
...he soon finds himself the target of his higher-ups while a mysterious person keeps tabs on his every move.