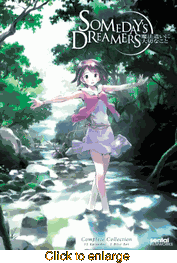 Someday's Dreamers
Genre: Fantasy (Age Rating 13+)
Format: DVD (Region 1)
Length: 300 Minutes Per Collection
Language: Season 1: Bilingual - Japanese w/ English Subtitles and English Dubbed
Language: Season 2 (Sora): Japanese w/ English Subtitles
Release: Geneon Entertainment / Section 23
Availability : Discontinued and Out of Print - Limited to Stock on Hand








When can flunking a spelling test cause major problems?
When you're learning how to use magic, of course! And that's exactly the situation fifteen-year-old Yume Kikuchi finds herself in when she travels to Tokyo to begin her apprenticeship as a licensed magic user. Unfortunately, Yume's a country girl in the big city for the first time and there are a lot of new-fangled ideas to get used to. Like her new mentor, Oyamada, turning out to be a man instead of the expected woman! Add to that the fact that Yume's not really very confident about her abilities to achieve her goal of a magic license and she might just jinx herself into failing! It will take a lot of helping hands from her equally challenged fellow students and even more aid from her teachers if she's going to succeed, but in the end, the most important lesson she'll learn may not even be about spellcasting.
The process of growing up and discovering what lies inside your own heart is the most wonderful magic of all in SOMEDAY'S DREAMERS - THE COMPLETE COLLECTION!
Season #2 (Sora): Get ready for a second magical journey to the world of SOMEDAY'S DREAMERs, where spellcasting is a profession that requires both the proper training AND a license. It's to get that license and fulfill a promise made to her late father that young Suzuki Sora has made the long journey from her distant home in the countryside town of Biei to the big city of Tokyo. It's a daunting challenge, but she's got a little bit of talent, a charming personality and, most important of all, the promise of an internship! What she ISN'T expecting, though, is how different life in the city will be, especially the people themselves. While she gets along with the ascerbic Asagi, Kuroda and the timid Hiyori, she's completely confused with the mysterious boy Gouta. And yet, as a result of their internships they keep ending up in the same situations and slowly learning to understand more about each other than they ever imagined possible!