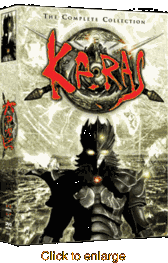 Karas
Genre: Science Fiction (Age Rating 17+)
Format: DVD (Region 1)
Length: 90 Minutes Per Volume
Language: Bilingual - Japanese w/ English Subtitles and English Dubbed
Release: Manga Video
Availability : Discontinued and Out of Print - Limited to Stock on Hand









The worlds of humans and demons have overlapped since time immemorial, and a young woman named Yuri and her servant, the Karas, have long maintained order and balance between the worlds.
But humans have finally lost their fears of the denizens of darkness...
Volume #1: The Prophecy
Disgusted by human arrogance, the Karas turns his back on the laws he helped uphold for so long, taking the name Ekou and leading a group of mechanized demons in an attack against the human race. Meanwhile, a detective named Kure who works at the police division in charge of demon-related incidents opens a case involving a series of bizarre murders that look like the work of a water demon. Elsewhere, the demon Nue, who came to town to fight Ekou, spots a water demon disguised as a famous warrior... and then Yuri shows up with another Karas. This new guardian of the city is determined to stop Ekou's evil ambitions, but he has a fierce fight ahead of him.
Volume #2: The Revelation
Picking up right where the Prophecy ends, the new Karas, Otaha, seeks vengeance against the yakuza that murdered his brother and almost killed him. Meanwhile, the old Karas, Eko, unleashes his wrath and contempt for the pitiful humans infesting the city. Yurine, Nue, and Otahajoin forces for the final epic battle to save the city and protect the will of the people... as prophecy becomes revelation!