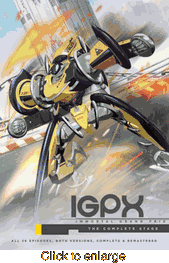 IGPX Immortal Grand Prix
Genre: Action (Age Rating 7+)
Format: DVD (Region 1)
Length: 1144 Minutes
Language: Bilingual - Japanese w/ English Subtitles and English Dubbed
Release: Eastern Star
Availability : Stocking Item - Usually Ships Within 24-48 Hours Unless Backordered









Speed and danger blur together in the Immortal Grand Prix, a sport that combines racing, fighting, and mecha for the ultimate thrill ride!
Up-and-coming Team Satomi has just won the IG-2, earning them the right to compete in the IG-1, the major league race for top honors (and top rewards.) But while the team has talent, what they lack is teamwork. Can the hotshot Takashi, airy genius Amy, and powerhouse Liz pull it together to win against the best in the IGPX?
Featuring the voices of Mark Hamill, Michelle Rodriguez, Haley Joel Osment, and Lance Henriksen!