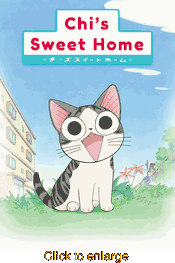 Chi's Sweet Home
Genre: Drama / Comedy (Age Rating 13+)
Format: DVD (Region 1)
Length: 312 Minutes Per Collection (Each Episode is 3 Minutes Long)
Language: Japanese w/ English Subtitles
Release: Eastern Star
Availability : Stocking Item - Usually Ships Within 24-48 Hours Unless Backordered








Lost and lonely, separated from her mother and siblings, a newborn
kitten named Chi cries in a park.
What she thinks must be the end, however, turns out to be a brand new adventure, as the Yamada family rescues Chi and gives her a new home. Or that's what would happen, if the Yamada's landlady let them keep pets! As the Yamadas look for a new owner for Chi, they have to keep her hidden from view. No small task when the mischievous young kitten doesn't intend to sit still! Every day is something new for Chi, and while getting forced into baths and visits to the vet never sit well with her, she has lots to look forward to, with new things to explore, and new friends to meet!