Nausicaš of the Valley of Wind Graphic Novels
Genre: Science Fiction / Fantasy
Format: Graphic Novel, B&W
Author: Hayao Miyazaki
Language: English Language
Release: Viz Communications
Availability : Discontinued and Out of Print - Limited to Stock on Hand








Humanity, in its hubris, has precipitated a devastating ecological disaster. Flourishing industrial civilizations have been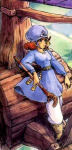 swallowed up and Earth is covered with the Sea of Corruption, an enormous forest of fungi that releases a miasma of poisonous spores into the air.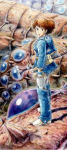 Nausicaš, a gentle young princess, has an empathic bond with the giant mutated insects that evolved in the wake of the destruction of the ecosystem. Traveling by cumbersome flying ship, on the hacks of giant flightless birds, and perched atop her beloved glider, Nausicaš and her allies must negotiate peace between kingdoms battling over the last of the world's precious natural resources...
Nominated for an Eisner award, NAUSICAń is an epic fable written and drawn by artist/animator Hayao Miyazaki (KIKI'S DELIVERY SERVICE, PRINCESS MONONOKE).