Anime DVD Release FAQ & Technical Issues
With DVD, as with all new technologies, there are always a few technical issues to be worked out before everything can be perfect - especially with Anime DVD's!
We've created this page to serve as a forum to answer frequently asked questions regarding Anime DVD releases, and to share any technical bulletins and information that is released by the manufacturers.



Click Here For Our Anime on DVD Index

Anime DVD Technical Bulletins\
7-1-06 - Technical Bulletin: ESCAFLOWNE (ANIME LEGENDS) BOXED SET
Part Numbers Effected: 80154
DEFECTIVE ESCAFLOWNE (ANIME LEGENDS) BOXED SET EXCHANGE
Bandai had a serious replication problem in the first batch of the new Escaflowne Anime Legends DVD boxed sets. We've been working with Bandai on a resolution of the issue. We received word today that Bandai has identified the problem, and is having good set reprinted. We are returning our remaining stock to them and will be awaiting replacement sets.

For all RACS customers effected by this, Bandai will be replacing the boxed sets directly. You simply need to e-mail Toshi Arai at Bandai and let them know that you have a defective Escaflowne Anime Legends DVD boxed set. His e-mail address is:

beirep@bandai.com

Be sure to include your name, address, and phone number in the email. Once you e-mail Toshi, he will respond with instructions for getting your DVD's replaced.
---
7-1-06 - Technical Bulletin: DOKI DOKI VOL #3 DVD
Part Numbers Effected: 12573
Some of you have been reporting defective Doki Doki #3 DVD's, and Geneon has announced they have setup an exchange program. Direct from Geneon comes the following:

'Every class has a problem episode or two...in Mika-Sensei's case, it's an episode authored out-of-synch. Episode 9 on the Doki Doki School Hours: 3rd Hour DVD is the unruly party, and since no one wants a disc speaking out of turn, Geneon will replace it with a proper disc at no cost to you. Just click on the link below to view all the details and print out the exchange form.'

Please click here to download the exchange form

* Note: You don't need to send the DVD case - just the disk. Geneon has passed the buck and sub-contracted Stuf to handle the exchanges, so good luck!
---
9-9-03 - Technical Bulletin: Yu Yu Hakusho TV Series, Vol #13, Genkai's Test DVD (Uncut)
Part Numbers Effected: FN-06353
Funimation has now confirmed a widely reported problem with some YuYu Hakusho Vol #13 DVD in which the subtitles on the Japanese language track are reversed for episodes 44 & 45.
If you have a disk that has this problem, you can get your disk replaced by contacting Todd King at Funimation directly at todd.king@funimation.com
Make sure when you e-mail him that you include the text "YYH 13 Return" in your e-mail's subject line, and you give your name, address, and the retailer you purchased the disk from in the body of your e-mail.

---
7-19-03 - Technical Bulletin: El Hazard, the Wanderers DVD Boxed Set
Part Numbers Effected: 12083
Did you get a defective El Hazard TV Series DVD #3: Winds of War in your El Hazard Box Set? Pioneer Entertainment has official announced a product recall for the El Hazard Box.
If you have a defective El Hazard DVD Boxed set, you should contact Deluxe Digital Media Services directly at 1-800-538-3601.
Any consumer who calls this number will have their defective discs replaced directly to them without having to deal with returning the product to their retailer. This offer will be available until 12/31/03. In the mean time, we have also pulled all El hazard Wanderers DVD Boxes from our shelves, and we are expecting replacement fixed boxed sets to arrive within 10 days. The new, corrected boxed sets will include a 10th anniversary sticker

---
7-1-03 - Technical Bulletin: Voices of a Distant Star
Part Numbers Effected: DVD/001
As many viewers have noticed, Voices of a Distant Star is unfortunately missing the alternate Japanese track, along with a few other items listed in the extras. Today ADV has addressed the issue with a replacement program, as follows:
1) E-Mail ADV customer service at returns@advfilms.com. Include your name, e-mail, and shipping address.
2) You will be sent a form letter to complete and a pre-addressed, pre-paid shipping envelope via UPS.
3) Complete the form letter; put the form letter and your Voices of a Distant Star disc in the envelope; and drop it in the nearest UPS shipping box.
4) As soon as ADV receives the old disc, a corrected disc will be shipped to you.
Please be sure to complete the form fully, carefully and legibly to hasten the return process. All questions on the Voices of a Distant Star replacement program should be sent to returns@advfilms.com.
There are 8 regions (also called "locales"). Players and discs are identified by the region number superimposed on a world globe printed on the disk or the disk case. If a disc plays in more than one region it will have more than one number on the globe.
Region 1 - U.S., Canada, U.S. Territories

Region 2 - Japan, Europe, South Africa, and Middle East (including Egypt)

Region 3 - Southeast Asia and East Asia (including Hong Kong)

Region 4 - Australia, New Zealand, Pacific Islands, Central & South America, Mexico, the Caribbean

Region 5 - Eastern Europe (Former Soviet Union), Indian subcontinent, Africa, North Korea, and Mongolia

Region 6 - China

Region 7 - Reserved

Region 8 - Special international venues (airplanes, cruise ships, etc.)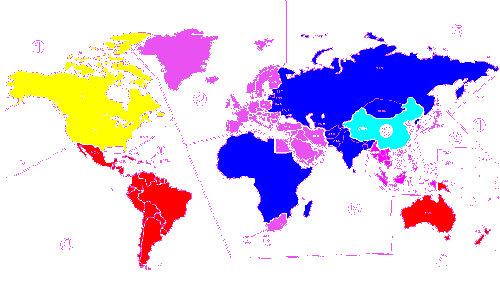 Some players can be modified to play discs regardless of their regional codes. This usually voids the warranty, but is probably not illegal. Some discs, such as those from Buena Vista/Touchstone/Miramax, MGM/Universal, and Polygram contain program code that checks for the proper region. These "smart discs" that do active region checking won't play on code-free players that have their region set to 0, but they can be played on code-switchable players that allow you to change the region using the remote control. They may also not work on auto-switching players that recognize and match the disc region.
Regional codes also apply to DVD-ROM systems, but are allowed for use only with DVD-Video discs, not DVD-ROM discs containing computer software. Computer playback systems check for regional codes before playing movies from a DVD-Video. Newer "RPC2" DVD-ROM drives let you change the region code several times. Once a drive has reached the limit (usually 5 changes) it can't be changed again unless the vendor or manufacturer resets it. The Drive Info utility can tell you if you have an RPC2 drive (it will say "This drive has region protection"). Drive Info and information about circumventing. After December 31, 1999, only RPC Phase II drives will be manufactured.
Regional codes do not apply to DVD-Audio.
Thank you for choosing the Anime Corner Store for Anime on DVD!